Ko Surin Nua and Ko Surin Tai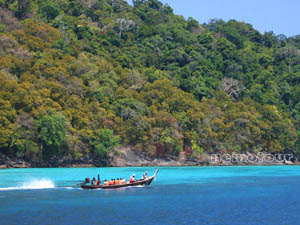 Ko Surin Nua and Surin Tai
The location is 9º25'23" N - 97º52'47" E
Ko Surin Nua or Surin Island is the best snokelling dive site for Thailand sea , Ko Surin Nua is a part for Ko Surin National Park.It is situated in the Andaman sea approximately 60 km from the Coast of Phang-Nga Province in the southern peninsula region. The park comprises 5 main islands; Ko Surin Nua, Ko Surin Tai, Ko Ree or Ko Satok, Ko Glang or Ko Pachumba and Ko Khai or Ko Torinla. Ko Surin Nua and Ko Surin Tai are large islands and are situated on a north-south axis. A few kilometers to the north of the park is the Myanmar border and about 100 kilometers to the south is Mu Ko Similan National Park
Surint Islands comprise of five main islands, including 2 large islands consisting of the northern surint island and southern surint island which located very adjacent like the twin island. They are separated by the 200 meters width shallow sea. In the low tide period, you can walk across to the other island or so-called "cutted channel bay". The other three islands are the rock islands with some dwarf trees. Plants that found here are the rainforest plants. They are one source of the big and best fertile shallow coral reef of Thailand.
Highlight of Ko Surin
best snokelling dive site, Beautiful coral reefs.
How to Get To Ko Surin
By Car
10 hours by bus from Bangkok's Southern Bus Terminal to Ampher Kura Buri, ( Kura Buri Pier )
From Kura Buri Pier to Ko Surin, you can take a private tour boat serves tourists everyday. This tour boat departs from Kura Buri Pier at 09.00 am. in everyday. From the port to this islands is about 58 kilometers which takes about 3.5 hours of journey. The return boat from Ko Surin to Kura Buri Pier departs at 14.00 pm. in everyday. However, this service would be closed at May 16 every year because entering of raining season. Once reached Ko Similan, motorboats are available for tourist to get to different islands per the following fare
By Airplane
Flights from Bangkok-Phuket operate daily. From Phuket, take a bus to Kura Buri Pier , Phang Nga province then take a ferry to Ko Surin.

Accommodation
Accommodations are available on Ko Surin Nua they have bang-galow and tent for tourist, and also food shop.
No Internet shop, No bank,